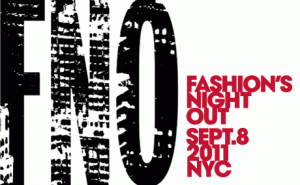 What would New York be without the fashion industry, and what would the fashion industry be without shoppers? This is the question that Fashion's Night Out answers. All the crucial elements of the fashion industry take part, including the planets of designers, models, fashion editors, and other interested celebrities, all revolving around the great shining sun of shoppers.
Inaugurated in 2009 as a way to restore buyer's confidence, boost the economy of an industry that had been in the doldrums, celebrate fashion and to put the fun back in shopping for fashion, Fashion's Night Out, or FNO, is returning with a vengeance this September 8th.
FNO is the opening gambit of the entire fashion season, and it is quite an event. From 6pm to 11pm shoppers will flock to their favorite fashion outlets, drinking champagn, shopping till they drop, and enjoying other fashion related exclusive events.
Check-out the official website of Fashion's Night Out for a complete list of events and help planning your special evening.