The month of May is a great time to be in New York if you are an arts fan. Coming our way are at least four, brand new outdoor exhibits for some wonderful new work by some major artists. Enjoy their stunning creations while soaking up some of nature's greatest creations, the warm, springtime sunshine.  Along with the al-fresco displays are accompanying indoor exhibits which are related in style, theme or materials.
•    Circle of Animals/Zodiac Heads– This is Ai Weiwei's latest public installation, which can be said to be following the lead of 'The Gates' by Christo and 'Waterfalls' by Olafur Eliasson.  Weiwei was arrested last month by the Chinese government, so he will not be able to attend the opening , which will take place at the Pulitzer Fountain in Grand Army Plaza, (59th and Fifth adjacent to the Plaza Hotel.) The opening is scheduled for May 2, where you can see the installation, which was inspired by the fountain-clock of the Yuanming Yuan, which was an 18th century imperial retreat on the outskirts of Beijing.
•    I Had a Vision- This is the latest from Martin Kippenberger. Opening on May 7th at Luhring Augustine, this display is culled from shows in San Francisco in 1991 and another show in Vienna of the same year, and takes its name from the catalog that accompanied that San Francisco show.  You may see a dumpster full of broken paintings, or an abandoned tunnel, among other things.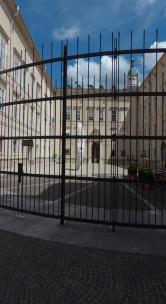 •    Echo- this is by far the largest sculpture on display this month. Its reflective surface on a 44-foot-high fiberglass reinforced plastic bust is the work of the Spanish artist Jaume Plensa, and portrays the head and neck of a nine year old girl. You can see this amazing artwork beginning on May 5 at Madison Square Park, where it will rival the surrounding trees by its size.