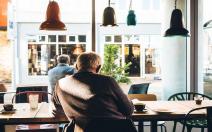 The Chandler owned by hotelier Shimmie Horn (Triumph Hospitality) has gone through a lot of transformations…the latest being the most elegant thus far.  Most people notice its beautiful and soft cherry and ebony wood theme, but the aspect which stands out the most about Hotel Chandler is the marble floor of the grand lobby, which showcases a star design. The hotel has fourteen floors, one hundred and twenty-three rooms and eight sweets, all accessed by an airy, refurbished spiral staircase.
Hotel clients have also relished in the bed and breakfast option at the Chandler as well as other hospitality addition like the fitness center, Finnish sauna, library room, desktop computer, and more.
The Triumph Hospitality brand owned by Shimmie Horn includes the Iroquois New York, Washington Jefferson Hotel and Hotel Belleclaire as well.