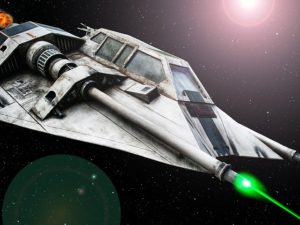 Don't be ashamed: We know you love Star Wars and everything the Force can influence, and even sometimes the Dark Side, too. New York has some great ways to celebrate this nerdiest of days.
•    Star Wars and the Power of Costume: The Exhibition at Discovery Square– Talk about cool! Head over to 226 West 44th Street and check out the more than 70 iconic costumes from all seven of the Star Wars films. From the Darth Vader's super creepy black mask, to that incredibly uncomfortable looking golden junk pile Anthony Daniels as C-3PO was forced to wear, you will certainly be enthralled to see the real things up close and personal.
•    Transport yourself to The Lego Store at 620 Fifth Avenue in Times Square and get a good deal on many Star Wars items offered on sale. Get a free copy of the official LEGO version of the Star Wars: Episode VII: The Force Awakens theatrical movie poster, with any Star Wars purchase. Hurry though, the promotions end on May 4.
•    New York Jedi creates real life action with onstage, illuminated combat with lighsabers. Yup, you heard me right. You can even take a course in the skill, and you don't even have to bring your own lightsaber. Lucky for most of us, they will provide them. Just think, after learning how to wield said saber the force can be with you all year long. Ripley Grier Studios, 520 8th Ave.