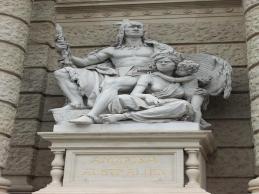 The American Museum of Natural History is one of the  jewels in the crown of New York's special significance as a world center of culture. No matter what you love, or what your interests might be, there is something that will fascinate you at this repository of some of the world's most unique, educational and enlightening artifacts.
If you have never been to the AMNH, or if it's been a while since your last visit, then you should take my advice and get over there soon. Here is a list of some of the special exhibitions which will without a doubt intrigue and inspire you.
• Brain: The Inside Story–
This exhibit, which is open until August 14, 2011, will bring you inside what is the most amazing product of evolution, developed over millions of years. "The human brain is the most complex and fascinating biological structure known, and we are delighted to explore its many facets in Brain: The Inside Story," says Ellen V. Futter, President of the American Museum of Natural History. "This exhibition illustrates how our remarkable brains work and what makes them so special, while featuring what is currently one of the hottest and most promising fields in science today—neuroscience. Visitors will not only learn what's in store for our brains in the 21st century, but will come away with an enriched perspective on the extraordinary brain, the vehicle for all of the things that makes us human."
• Body and Spirit: Tibetan Medical Paintings—
This exhibit features 64 Tagkas, or Tibetan medical paintings, which are part of the AMNH's collection. These are hand-painted reproductions of traditional scroll paintings, and are on view for the first time in a museum exhibition. The paintings allow us to get a glimpse into the history of early medical knowledge in Tibet, and it is also thought that this group of paintings is among only a tiny number of such sets which exist in the world. "The Museum's Tibetan collection, from which these paintings are taken, comprises nearly 2,800 objects, and is among the finest in the United States," said Ellen V. Futter, President of the American Museum of Natural History. "This new exhibition represents the continuation of a great artistic tradition and will offer visitors a unique and fascinating perspective on early Tibetan culture." Until July 17th.
• Hayden Planetarium Space Shows—
Using the most up-to-the-minute technology the Hayden Planetarium at the Rose Center of Earth and Space is able to bring the world of science into sharp focus. Showing now are two fascinating presentations: "Journey to the Stars," narrated by Whoopi Goldberg, will take you back 13 billion years to the very beginning of the universe. The second show is  a double feature, with "Passport to the Universe," narrated by Tom Hanks, and "The Search for Life: Are We Alone?" narrated by Harrison Ford.
For More Information Contact the Museum: (212) 769-5100